L'ITALIANA IN ALGERI 4ª
Thursday 21st of July 2022 - 9pm
Sant'Arcangelo di Romagna, Sferisterio
- main sposnor : Banca Malatestiana

Free entry on reservation at +39 331 426 561 Voci nel Montefeltro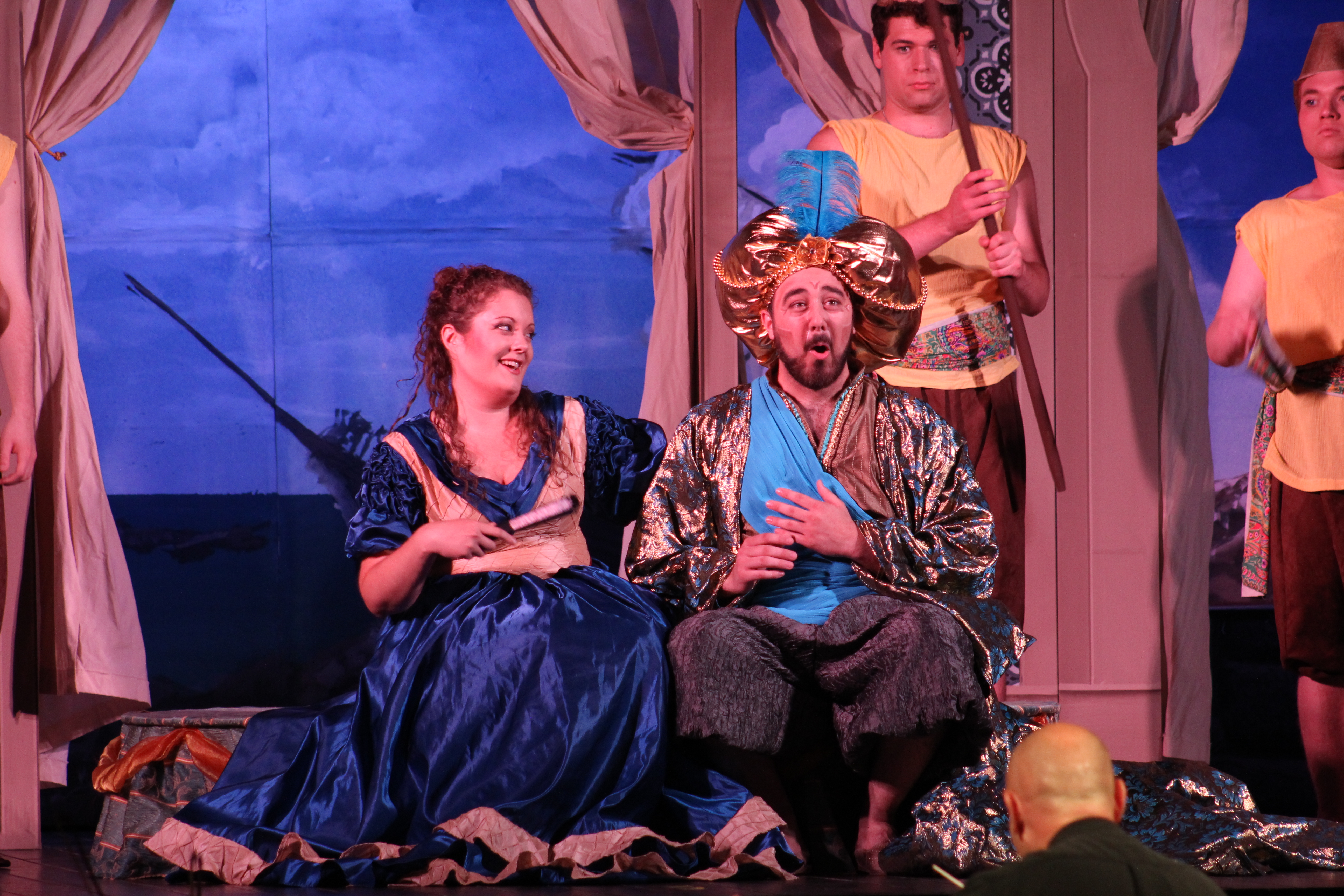 (if adversive weather: Teatro Supercinema, Sant'Arcangelo di Romagna)

Playful drama in 2 acts by Gioachino Rossini
Booklet by Angelo Anelli


First staged in Venice on May 22, 1813, it is one of the greatest contributions to the renewal of Italian opera buffa. The plot tells the story of Isabella, a young Italian woman who is captured by the corsairs of the Bey Mustafà, who is eager to change his wife. Isabella meets at the Bey's court her beloved Lindoro, on whose trail she had set out.

Concertmaster and director : Joseph Rescigno

Director : David Ronis

Costumes : Audrey Hamilton

Scenes : Jillian Eddy

Lights : David Navalinski


- Personaggi :

Mustafà Maciej Boberek, Norman Espinoza
Lindoro Conner Fabrega, Alexander Harrelson
Isabella Naomi Steele, Julia Woodring
Elvira Simmie Patoka, Natalia Turchin
Zulma Karina Buruca-Kunda, Rebecca Seifert
Haly Dan Emmons, Matthew Taylor
Taddeo Steven Groth, Giovanni Rabbito


Orchestra Città di Ravenna

Soprani : Simmie Patoka, Savannah Scott, Natalia Turchin

Mezzosoprani : Karina Buruca- Kunda, Mia Kopera, Daryn Nowlin, Rebecca Seifer, Naomi Steele, Julia Woodring, Mary Wright

Tenori : John Calandra, Ismael Pérez Ramírez, Conner Fabrega, Alexander Harrelson, Matthew Taylor

Baritoni/Bassi : Maciej Boberek, Henrique Carvalho, Norman Espinoza, Daniel Emmons, Steven Groth, Giovanni Rabbito

M° collaborator and pianist : Jason Carlson

Techincal director : Steven Waggoner
Scene director : Taylynn Rushton
Tailoring director : Eileen Thoma
Tools technician : Hannah Gilbert
costumes assistants : Dory Scott, Kerry Whitton
Production assistants : Jayden Dudley, Jai Auzenne, Marita Gattone
Technique assistants : Hanna Bartnicki, Ben Niemczyk, Grey Rung
Production coordinator : Emilio Casillas


Disclaimer : The opera was written in 1813, a time when, in the commedia dell'arte, still alive for Rossini, irony was used as a tool to temper the issues that today converge into politically correct. So today, for inclusive and non-discriminatory reasons, with an all-modern sensibility the director has set the play in an unknown seaside location, while the protagonists, a group of outlaws, do not represent any ethnic group. The play of parts is preserved and all human foibles represented with the vitality of Rossini's music.