Italian Lessons
30-06-2022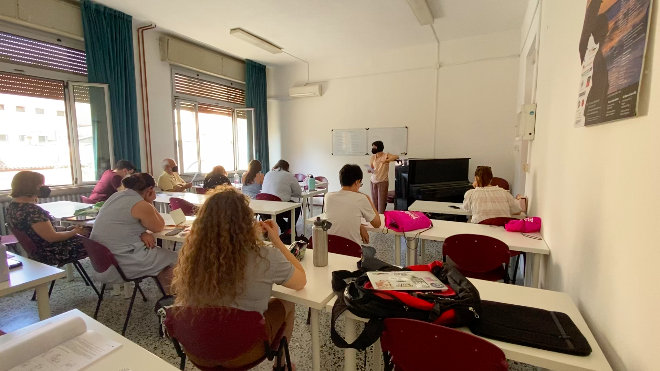 To let you in a little more into our Academy, today we want to show you the effort of our Italian teachers.

Every morning, students participate in Italian classes taught by our two professors, Ilaria Ciccioni and Alessandro La Porta.

Ilaria, who has a degree in Conference Interpreting from the University of Bologna (languages of specialization: English and German), has been working steadily with "Voci nel Montefeltro" since 2007, as a teacher and contact person for Italian courses. Again this year, we have the honor and pleasure of having her on our team.

Alessandro La Porta, our new entry, has a degree in conference interpreting (English and French languages) from IULM in Milan.

The Italian language with its grammatical structures, syntactic, etc.., is a fundamental component for developing correct pronunciation and expressiveness during opera singing.

On the first day at the academy, students were given a small entry test in Italian, which divided them into four classes: three for beginners and one for intermediate level.

The class is generally conducted in Italian, starting with a short reading and then moving on to vocabulary and grammar.

Our teachers also propose playful activities (songs or real games with which to practice Italian), to make the study hours more enjoyable and interactive. A part of the lesson, moreover, is often dedicated to getting to know the place that hosts them and its traditions, here the students learn how to order ice cream, a pizza, a coffee, or how to ask for something to the supermarket clerk, also learning about the typical dishes and festivals.